Vietnamese Refugees
Description:
The monument commemorates the Australians who helped resettle Vietnamese boat people during the 1970`s, and dedicated to the thousands of refugees who died trying to escape Vietnam. This memorial is the first in Australia to commemorate the plight of the Vietnamese refugees.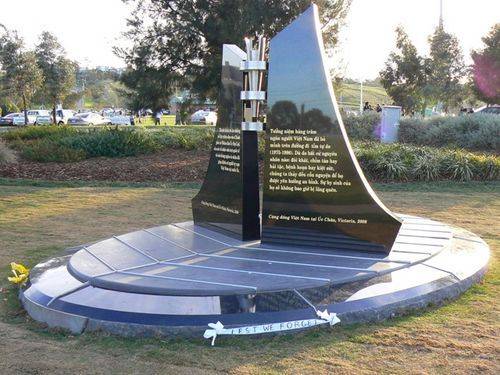 LocationMem:
Farnsworth Avenue, Jensen Reserve, Footscray, 3011
Group Acknowledged:
The Vietnamese - Australian Community in Victoria 2008
Historical Subject:
Vietnamese boat people is a term that usually referred to boat people refugees from the Vietnam War during the late 1970s, who fled Vietnam in large numbers following the Fall of Saigon. Typically, they used boats that were old and crudely made.
Physical Aspects:
Left Side Inscription
With gratitude for the humanitarian efforts of the Australian people and the Australian government, of the world-wide relief organisations and of thousands of individuals who assisted in settling the Vietnamese refugees in Australia.
The Vietnamese - Australian Community in Victoria 2008
Back Inscription
Inscription in Vietnamese
Right Side Inscription
In commemoration of the hundreds and thousands of Vietnamese people who perished in pursuit of freedom (1975-1996). Whatever the cause might be: hunger or thirst, wreckages or pirates, sickness or exhaustion, we all pray that they may now rest in peace. Their sacrifice will never be forgotten.
The Vietnamese - Australian Community in Victoria 2008