Framing and Passivized Memorials: Ways We Avoid Blame in Memorializing Experience
Intro
Collective Memory
Collective memory "refers to the distribution throughout society of what individuals know … believe and feel about the past, how they judge it morally, and how much they identify with it," (Corning 452). Largely, we can attribute the narratives that memorials portray as representations of collective memories. They are a reflection of the public or the funding entity's perception of a certain even or group. Collective memories are created by two groups: memory producers, and memory consumers. Memory producers are individuals or groups who create and/or endorse representations of certain groups, and memory consumers are those who "use, ignore or transform [representations of the past] according to their own interests" (Kansteiner 180). When analyzing the monuments linked above, it is important to validate both memory producers and memory consumers. Memory producers created the narrative surrounding African American immigrants and migrants from the slave era through Reconstruction, but that narrative has been filtered many times through various memory consumers who have adjusted this narrative based the on political and social context through which they consumed it. Therefore, the context of these memorials lies within the political and social context of creation as well as the political and social context of the times through which these narratives have been and are being consumed. The narrative created by collective memories through which I have chosen to analyze these memorials is the White Frame. I will use this frame and the selected memorials to convey that Americans have welcomed certain perspectives of perceived voluntary African American migrations into the nation's cultural identity but the country has yet to incorporate the experiences of forced migrants into its history.  
The White Frame
The White Frame "function[s] as broad worldview, one essential to the routine legitimation, scripting and maintenance of systemic racism in the United States," (Faegin 38). This worldview is made up of stereotyping, bigotry, and racist ideology (38). These aspects of the White Frame can all be attributed to collective memory. The narrative surrounding African Americans and other groups of color has been largely negative due to certain political and social contexts specific to this country. This group of collective memories is fueled, in part, by image schemata. An image schema is the image feature of a mental frame that is repeated throughout society, and therefore able to provide understandings of experience, or contribute to a narrative, in the same way that memories do (40). The selected memorials are instances of image schema. The Permanent Memorial and Dred Scott Memorial are different image schemata that take part in the White Frame, as it operates in the United States with regards to African American history.
An important aspect of the White Frame that will be seen throughout this exhibit is the idea that most white people do not recognize the ways in which they routinely act within the white racial frame (Faegin 123). In fact, I would go as far as saying that people of all colors often operate within the White Frame of society in many ways without recognizing it. However, white people in particular concentrate on a "social front stage" where all racial groups are acknowledged, but a backstage in which only whites are present (123). Essentially, this means that, when in private, white people are more likely to voice their racist tendencies or to be racist and this is seen as okay because as long as people abstain from racism in the public eye there is a sense that no one is really "hurt". Therefore, the reason why many memorials of African American history may not take to calling out or condemning racism is because racism isn't acknowledged in the public sphere and is still widely considered acceptable in the private sphere.
Voluntary Migration
Example of Negative Actions' Acceptance over Positive Action: Reinforcement of the White Frame through Education
Before I begin to talk about the representation of voluntary African American migration that I have chosen, I want to talk about a prominent example of the negative portrayal of African American action through the white frame. Abolition in American textbooks has become a largely negative narrative (Stoskopf 92). The nonviolent actions of abolitionists have all but disappeared in American textbooks, leading to a very limited conception of political change and conflict revolution and helping to negate the wrongdoings of white Americans by portraying abolitionists as unnecessarily violent  (92).  The negative depiction of the abolition movement adds to the negative collective memory of African Americans that feeds into the White Frame–an example of memory production. This makes it hard to see African Americans in a positive lights and reinforces systemic racism. By placing this image of African Americans in textbooks, the volume of memory consumption grows and this negative association with African Americans is perpetuated throughout society. Many other skewed narratives similar to this are perpetuated throughout society. By replacing positive actions with negative collective memories, the White Frame is further maintained, and counter-narratives become more challenged.
Another Time's Voice Remembers my Passion's Humanity
Positive Passive Essence in Memorials and its Acceptance
This memorial in Chicago, Another Time's Voice Remembers My Passion's Humanity, was made to represent the Great Migration: the movement of African Americans to the North after the Civil War. It shows the essence of African Americans in a positive light, but was only recognized and celebrated decades later (many murals like it were controversial and taken down). This mural and many others like it were made by black artists in the 60s and 70s as an acknowledgement of black heritage. However, they were not celebrated at the time they were made in the same way that they are today; In his presentation on mural preservation, John Weber states that the "political and social context was still too remembered, too fresh to be forgiven" when he is describing the rejection of murals within the community. Weber's analysis touches on the idea that reconstruction is not confined simply to the era that directly followed the Civil War, but rather that is is an ongoing struggle.
However, Jean Charlot takes on a different perspective. When discussing murals, Jean reminds us that "a time may come when onlookers will have lost the key to their meaning. For the very reason that your murals document strictly contemporary attitudes, they deserve to last and enter history, as medieval shrines did, as Mexican murals do," (Cockcroft xvii). Jean brings to the foreground the possibility that erasure of experience can occur when memory consumers reject a narrative that is in disjunction with popular political and social norms, as this mural depicting the positive essence of African Americans conflicted with social norms at the time it was created. Many similar to it in nature were not preserved but rather their similar image schemata caused them to be removed or deemed unimportant in times of construction or renovation. Therefore, the acceptance of murals like this one is rather new. Even voluntary migration is still not fully acknowledged and accepted due to the White Frame. Much of society still experiences discord when discussing appreciation of African American history and celebration of heritage within our nation. In the present day even, black artists lack sufficient funding and resources and preservation of black art needs organization in many areas. Though this mural shows the emergence of a new narrative counter to the one created by the White Frame, there is still a long way to go before multiple interpretations and perspectives are included in dominant scripts of our nation's history.
Forced Migration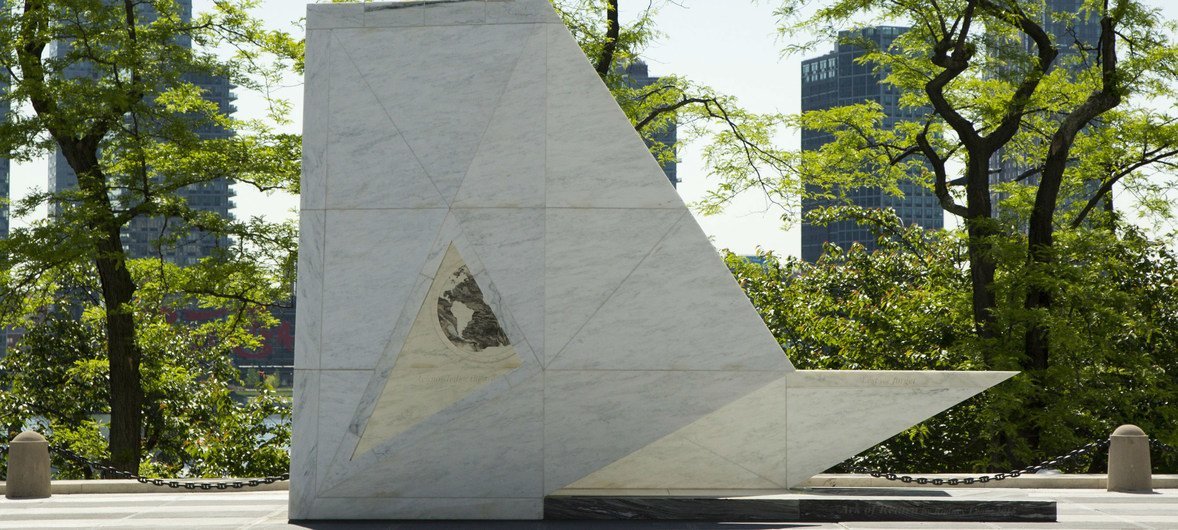 The Permanent Memorial
Passivized Essence as a Way to Avoid Acknowledgement of Wrongful Action
When examining banks of collective memories, such as the White Frame, memories can be broken up into two main categories: memories about essence and memories about action (Corning 457). Throughout my research, I noticed that forced migration memorials tend to be more about essence. Another Time's Passion also focuses on essence, making it easier to ignore the actions (those related to slavery) that led to the actual migration of African Americans away from the South. Similarly, when examining the Permanent Memorial–a monument dedicated to slaves who were forced to come to America through the Middle Passage–it can be seen that the monument fails to completely memorialize the middle passage through its three sections by solely focusing on essence without acknowledging the wrongful actions of past white Americans.

Acknowledge the Tragedy
This memorial does, in some parts, acknowledge the tragedy. It depicts the state of slave ships as poor (making them visually analogous to coffins), and seems to be saying the Middle passage in essence was bad. However, the memorial does not acknowledge the tragic actions that led to the pain the slave trade caused. The memorial does not denounce racism or the actions of white Americans explicitly. Similarly, the inclusion of a three dimensional map as a representation of acknowledgement seems to be pointing to the idea that this was a global tragedy. By widening the scope of the memorial to a global scale, there is no direct emphasis or responsibility placed on the United States. Thus, it can be assumed that the memorial, in keeping with the White Frame, is solely addressed to the public sphere and acknowledged the repercussions of racism without condemning racism itself in or its existence in the private sphere.

Consider the Legacy
The legacy set by the permanent memorial is not one of accountability for actions. In passivizing the memorial by focusing on essence instead of action, the UN missed out on a chance to point this nation towards healing. Instead, a legacy is established that includes running from past actions and failing to acknowledge pervasive structures of racism that parallel past societal ills. The image schema in this section of the memorial also reinforces the idea that African Americans were helpless or even lazy. The slave laying dead in the bowels of the ship depicts a very passive narrative. What is established is not legacy of black empowerment, but rather creating a narrative of black passivity and historical inevitability. The scope of the memorial is further limited to the conditions on slave ships and what was done to slaves, not who did it. Through this section of the memorial, blame is further avoided and even negated.
Lest We Forget
It is difficult to look into a reflecting pool and to fully reflect on our past and heal–as this section of the memorial calls on viewers to do–if the past created is one that leaves out the responsibility we must take for our nation's past actions. The role white Americans had in developing the slave trade is already forgotten in this memorial. Painful remembrance is necessary and part of the reason why institutional racism is still so prominent is that to acknowledge even the blatant wrongdoings of the past is too painful for some to come to terms with. This passive memorial wasn't even unveiled until 2015. All this is not to say that we have not made big steps towards equality, but admitting the errors of our past and more clearly condemning the thought patterns that govern racism is necessary for us to fully validate and incorporate the experiences of African Americans in this time period into the history of the United States.
Gray Area: Is Any Large Group Migration Really Voluntary?
Dred Scott Memorial
This Dred Scott Memorial in Florence, Alabama's Walk of Honor can be seen as a positive representation of action. The memorial seems to frame Dred Scott's narrative in a noble, and voluntary, manner by stating that he "waged" a legal battle. Similarly, by ambiguously describing the Supreme Court decision as simply "pivotal", there is a possibly positive connotation. The plaque makes the events in Dred Scott's life seem as if they were by choice, including the migrations that he completed. Though his actions were certainly noble, Dred Scott was forced into the situation he found himself in. He had to flee Missouri because he was forced into slavery; he was also forced to return to Missouri. The Supreme Court decision that resulted from Scott's legal battle ultimately indorsed forced migration and caused similar situations to become more prevalent. Therefore, even though the language and emphasis on action makes this memorial seem like it has to do with voluntary events, Dred Scott's story is really one riddled with forced migration. This memory production creates a false narrative that protects the prevalence of the white frame in our society by negating the fact that external–and unjust–social institutions forced Dred Scott's reality upon him.
Similar to the shortcomings of the Permanent Memorial, the Dred Scott memorial in Florence lacks recognition of the societal ills of the time period. Actions committed by white Americans and the Supreme Court decision alike should be condemned or at least described in a less neutral manner. The framing of the memorial serves to hide the actions of perpetrators and, in doing so, negates the experiences of those forced to migrate. The failure to publicly condemn the wrongdoings of the past is in stride with the White Frame's ignorance when it comes to denouncing racism. Not only this, but keeping in trend with the Permanent Memorial and Another Time's Voice, Dred Scott was only inducted into the Walk of Honor in 2011. It took more than a century and a half for even this misrepresentation to be deemed acceptable enough to memorialize.
Is Any Migration Voluntary?
According to USA for UNHCR, a refugee is considered "someone who has been forced to flee his or her country because of persecution, war or violence." Going off this definition, it is possible to classify most memorials as pertaining to a group of refugees or those forced to migrate. Dred Scott fled from violence and persecution. Those partaking in the Great Migration left the South due to violence and persecution as well. Slaves were undoubtedly forced to migrate. In fact, I think you'd be hard pressed to identify a mass migration or immigration which was not caused by some external pressure. The Irish were brought to America due to the Potato Famine. Vietnamese "boat people" came due to repercussions of war. Immigrant populations often don't grow simply because people want a change in scenery. Keeping this in mind, we should all challenge the way our communities memorialize the history of immigrants going forward: the frame they're placed in, the scope of the memorials, and the emphasis they place on essence vs action. Do we ever acknowledge the causes of immigration and migration? What history do memorials really represent? To what extend have we held ourselves accountable as a nation for our past? These are all important questions that must be asked when digesting representations of history, and based on the above analysis, questions that have not been asked enough. 
Citations
Cockcroft, Eva et al. Toward a People's Art: The Contemporary Mural Movement, 2d ed. Albuquerque: University of New Mexico Press, 1998. xvii.
Corning, Amy, et al. "Framing Variations and Collective Memory." Social Science History, vol. 36, no. 4, Winter 2012, pp. 451–72.  Project MUSE, doi: 10.1215/01455532-1717127.
Feagin, Joe. The White Racial Frame: Centuries of Racial Framing and Counter-Framing. Routledge, 2013. ProQuest Ebook Central.
Kansteiner, Wulf (2002) "Finding meaning in memory: A methodological critique of collective memory studies." History and Theory 41 (2): 179-97.
Stoskopf, Alan, and Angela Bermudez. "The Sounds of Silence: American History Textbook Representations of Non-Violence and the Abolition Movement." Journal of Peace Education, vol. 14, no. 1, April 2017, pp. 92–113. Taylor & Francis Online, doi: 10.1080/17400201.2016.1230543.
Weber, John Pitman. "Politics and Practice of Community Public Art Whose Murals Get Saved?" Mural Painting and Conservation in the Americas, 16-17 May, 2003. Getty Conservation Institute.
"What is a Refugee?" The UN Refugee Agency, USA for UNHCR, 2018, https://www.unrefugees.org/refugee-facts/what-is-a-refugee/. Accessed 5 March, 2018.